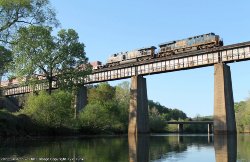 Welcome to the RRPictureArchives.NET contributor site of Kyle Yunker.



I have given up uploading pictures to this site because no matter how much I try, the pictures get jumbled around or deleted some way or another.





The name's Kyle. I live in Marietta,GA and have for my whole life.

I railfan:
CSX's W&A sub, K&A sub, A&WP sub, Manchester sub, Fitzgerald sub, Abbeville sub, The Old Georgia Road & the Atlanta Terminal.
Also Norfolk Southern's Atlanta North District, Atlanta South District, Birmingham East District, Griffin District, Macon South District and Piedmont Division.
Another railroad I railfan is the Georgia Northeastern Railroad.


I also video trains and post them on youtube. My page is www.youtube.com/guitars14

Feel free to rate and comment.



You may browse my collection of pictures via the menu located on the left hand side of the page. I hope you enjoy the collection and thanks for stopping by!
Note: This site is best viewed in Internet Explorer 6.0 or above.
Select one of the links from the menu on the left to begin browsing the collection.